My Place Hotel Comes to East Portland and Gresham
MY PLACE HOTELS KEEPS UP THE MOMENTUM WITH OPENING #64 IN PORTLAND EAST/GRESHAM, OR!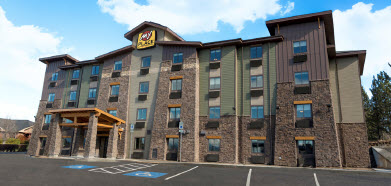 PORTLAND EAST/GRESHAM, OR MAY 20, 2021 -
My Place Hotels of America continues to expand their extended-stay hotel offering by celebrating its 2nd property opening in May with #64, My Place Hotel-Portland East/Gresham, OR! The brand is ecstatic to welcome this beautiful four-story, 63-unit hotel located at 2384 Northeast 178th Avenue.
This location is centered perfectly between bustling downtown Portland to the west and the beautiful Mount Hood National Forest to the east. Whether you are in town for business, pleasure, or both, this location is ideally located to set up your base camp. With PDX International Airport only a few minutes away and easy access to I-84/I-5, our guests can conveniently explore all things Portland from this location!
Portland East/Gresham's brand-new hotel is independently owned and operated by Pacific NW Gresham LLC and managed by Legacy Management Inc. Owner of My Place Hotel-Portland East/Gresham, Joe Dinger is thrilled to be opening another location in the Pacific NW.
"We are very excited to offer all extended stay rooms with high quality in-room amenities providing our guests all the comforts of home. Most importantly, the rooms will be presented with a focus on cleanliness and comfort at a rate that is very affordable. In today's day and age, it's not often you find the type of value you can get by choosing My Place!" Pacific NW Gresham LLC, Joe Dinger My Place Hotels of America EVP of Franchise Sales Terry Kline is excited to be partnering with Joe again and believes this will be a great asset to the Portland East area and to the My Place Hotels portfolio.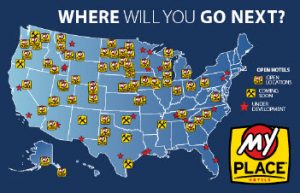 "My Place Hotels congratulates Joe Dinger and his team at Pacific NW Gresham LLC on their successful opening of the new Portland East/Gresham My Place Hotel. We are thrilled to add the Gresham My Place as yet another prime location to our growing presence of new hotels serving loyal My Place guests across the Pacific NW region. With having now opened their seventh new My Place Hotel, we greatly value our working relationship with Joe and his team and wish them every continued success. Congratulations Joe!" My Place Hotels of America, Terry Kline All My Place Hotels offer modern amenities at an affordable price including nightly and extended rate options. Each extended stay guest room features a My Kitchen, complete with a two-burner cooktop, a microwave and a full refrigerator. The property is pet friendly, includes on-site laundry facilities, complimentary high speed internet service and a 24-hour My Store, located in the hotel lobby and stocked with an array of supplies for the guests' convenience. Additionally, guests are invited to enjoy the Breakfast in Bed option for a minimal cost.
My Place Hotels of America, LLC is persistently advancing in its campaign for US expansion of the recently launched franchise system. The chain currently has 64 hotels open and operating with a near-term pipeline of 120 additional hotels and midterm commitments for upwards of 40 more hotels to follow. To book your stay at My Place, please call the toll-free reservation line at: (855) 200-5685, or visit myplacehotels.com.
My Place Hotels of America, LLC is a Franchise company that focuses on providing a clean and comfortable facility, with modern amenities, and great customer service, all at an affordable price. My Place Hotels of America, LLC is based out of Aberdeen, SD, and offers franchisees a new construction brand, designed to ensure quality, consistency and the highest of standards for delivering marketplace value. For more information on becoming part of our growing franchisee family, please visit myplacehotels.com or contact Terry Kline at (605) 725-5685.