The Gresham Area Chamber of Commerce and Visitors Center recognizes the great potential of bicycle tourism to support and grow our region's economic future. From Gresham, to Troutdale, and Corbett, there are many reasons to ride out and enjoy the hospitality of East Multnomah County, including a host of bike-friendly businesses.
Where to Ride
There are many, many miles where riders of any level can enjoy cycling in East Multnomah County. From the 40-mile Loop to the mountain bike trails of Mt. Hood and Larch Mountain, opportunities abound for families, road cyclists, mountain bikers or the adventurer.
What to See
Sam Barlow and a whole host of pioneers crossed into Oregon over the Oregon Trail — right through what would become East Multnomah County. Add Lewis and Clark, the waterfalls of the Columbia Gorge, and a quick glimpse of Sasquatch and you've got a vacation weekend that you'll remember!
Where to Eat
Ride up to one of the many culinary opportunities to be found out here — everything from fast food to paninis to salmon on the Sandy River. Coffee is available at the time of lift-off, and area-brewed libations abound for relaxation at the end of the day. Bon appétit!
Where to Stay
Soft, comfortable beds of every type are available in East Multnomah County, from hotels in nearly any price range, to motels and gorgeous bed & breakfasts. Our directory will help you to choose which accommodations will work best for you, your family and your friends.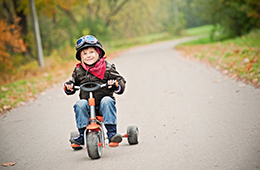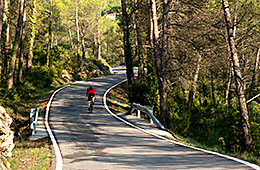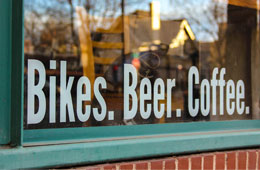 Good Rides for Any Cyclist
We've ground-tested several great rides in East Multnomah County charted at RideWithGPS.com. Here's a peek at just a couple.
Dodge Park Ride
Road Ride: This route takes you on country roads riddled with nurseries and views of Mt. Hood. Stop at Dodge Park 10 miles into your ride for a picnic lunch. Plan on stocking up on food and drinks in Gresham since there are no provisions as you head farther east.
Watch for a fantastic descent to the Sandy River that ends with a roll across the Lusted Road Bridge right before you enter Dodge Park.
Two Rivers and a Creek Ride
Road Riding: This 30-mile loop takes a scenic tour of four different bike paths including a route around the Troutdale Airport and a long, scenic stretch along the Columbia River. Be sure to keep an eye out for the ospreys — and you may even see one catch a fish.