Member Benefits & Opportunities
Advocate. Educate. Collaborate.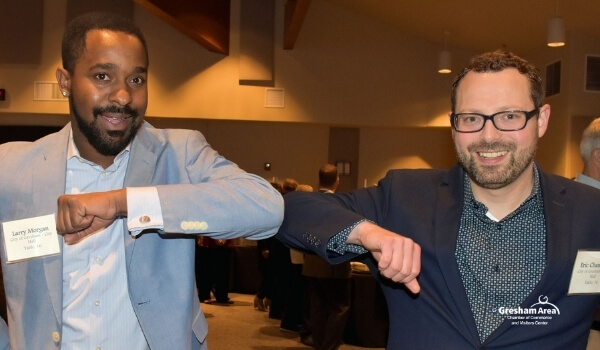 The Gresham Area Chamber of Commerce and Visitors Center is committed to advancing a vibrant and prosperous economy  as the catalyst in the East Metro region. To that end, the Chamber offers members a multitude of opportunities to create exposure for their businesses as well as providing resource for a healthy business climate. Some of the benefits include:
Relationship building and connections
Business advocacy and community development
Educational programs and special events
Sponsorship and advertising opportunities
Referrals to member businesses
Strong City Government and School District Partnerships
Relocation packets
Credibility
The Voice of Business to Government
The Gresham Area Chamber of Commerce is the region's voice for business, advocating for its members at all levels of government. We add value to our business community and to the community at large by advocating policy initiatives that are critical to economic growth, job creation, job security and business-friendly policies.
Promoting your business through the Chamber
The Chamber provides many opportunities for exposure through advertising in print, online and sponsorship. Members enjoy the benefit of the following resources:
Chamber Events and Programs
Chamber events range from a gathering of approximately 100 attendees at weekly networking meetings to half day educational programs focusing on economic development. The activities below meet the diverse needs of the business community.
Over the past 12 months, 7,500 people have attended networking events and programs at the Chamber.
Networking:
Friday AMs: Every Friday

A great networking opportunity to meet more than 100 Chamber members and prospective members.  New faces always welcome!

Speed Networking: Quarterly
Monthly Events:
Chamber 101: 3rd Wednesday
Business & Leaders Luncheons: 3rd Tuesday
Try Local: First Tuesday
Health & Wellness: 3rd Thursday
Unofficial Happy Hour: 2nd Wednesday
Events:
Business Excellence Awards
Chamber Expo: Spring and Fall
Chamber Golf Tournament
Business Summit
One of the great assets of the Gresham Area Chamber of Commerce and Visitors Center is an incredibly active membership.  Whatever your business mix or interest, the Chamber offers man committees and groups on which to serve.  Members find that active participation on committees and groups can extend their reach for networking, building relationships and marketing their businesses. See below for a list of active committees and groups.
Gresham is the lifeblood and the catalyst of vitality and prosperity for our region. That is why we should all be excited about the accomplishments of the Gresham Area Chamber and the future. East County and Gresham have much to be pleased with. You don't have to go any further than this Chamber to witness success.
The mission statement clearly points out that the chamber is the catalyst. We Advocate…Educate….Collaborate. Success comes from doing all three.
2022 might have started with a devastating fire at our office. While the fire torched the building it didn't touch our commitment or ability to have a positive impact on the community while also supporting our members. Here's just a few things we've been up to this last year:
Our annual golf tournament in June is always fun and our Business Summit in October is valuable and always informative. Our valuable programs like Business and Leaders Luncheons continue to provide, not only great speakers from all over Oregon, but monthly networking opportunities for our members.
The Chamber staff and members supported the Gresham Art Festival again, volunteered at the Annual Teddy Bear parade, manning road blocks and directing traffic while greeting 100's of families to downtown. Our members supported the Spirit of Gresham. We had a record breaking number of ribbon cuttings (26, that is one every other week). We expanded our Try Local events including bringing back our beloved Golden Whisk award, a friendly cooking competition at Reiglemanns. Largest attendance we have ever had at the Golden Whisk Award event.
We celebrated our Olympic Gold medalists' 30th birthday with the Gold Medal Giving drive. Ryan Crouser, Barlow gradate, and 2 time shot put Olympic gold medalist, flew into town to celebrate his 30th birthday with us and to give away $5000 worth of donated athletic equipment to children in our area.
The Gresham Chamber offers business opportunities and fun for all who want to participate. Our mission is to successfully educate, advocate and collaborate on behalf of each of you. Sharing our community pride will bring more shoppers, families, business entrepreneurs, investors and tourists to our town.
You can be proud of the work being done inside and outside of the Chamber building. The value your membership is receiving is visible, aggressive and reliable. Marketing each of our members to each other, to new customers, both inside and outside of our city boundaries, is a responsibility taken seriously…and will faithfully continue.
We are proud of Gresham. We want to tell others why we are proud of our community. Sharing our community pride will bring more shoppers, families, business entrepreneurs, investors and tourists to our town.