We are the catalyst that advocates, educates and collaborates to produce vitality and prosperity.
Serving the East Multnomah County area since 1931, the Gresham Area Chamber of Commerce is a private, nonprofit (501(c)(6)) business association that promotes the prosperity of the business community in the east metro region.
Lynn Snodgrass
9 to 5 CEO
After Hours:  You would think Lynn loves to garden, considering the family business history, but it ranks fifth on her list of things to do.  First is family time with her husband and immediate family, including playing with and hanging around her seven grandkids.  Second is cooking (soup every Sunday).  Third is reading (Baldacci, Vince Flynn, & Harlan Coben type novels).  Fourth is vacationing at Roatan.  And then fifth is gardening.  She loves planting and weeding.  She prays for rain so she doesn't have to water.
Life before Chamber:  Small business owner (over 45 years) and manager of Drake's 7 Dees Garden Center and Landscape company, elected public servant, teacher, mother, and now grandmother.
Vicki Moen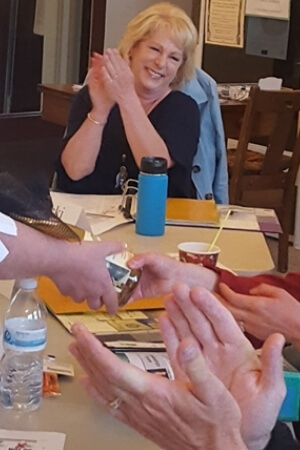 9 to 5 Director of Career Linked Learning
After Hours:  Under Construction
Life before Chamber:  Under Construction
Liz O'Byrne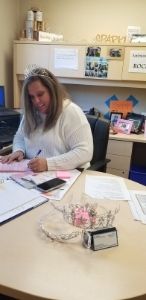 9 to 5 Membership & Program Manager
After Hours:  Glitter and Gallop.  Two of her favorite passions can be described that way.  Her dream is to own (hopefully funded by future lotto winnings), a farm big enough to own many horses.  She narrows down her favorite vacation spots to sunny locations where she can gallop on a horse on the beach like Bora Bora and Maldives.  But a cowboy hat is not her riding attire.  Thus, her second passion… tiaras.  The glitter of tiaras don her head at the most unique times…including when she rides a horse.  Perhaps it is the surprise factor but she wears them randomly throughout the day when it is least expected.  Visiting her office gives you a glimpse of her tiara collection.  It is no surprise that she avoids confined spaces which is good because her job at the chamber definitely isn't in a confined space.
Life before Chamber:  Retail was her college education of choice.  Kohl's, Fred Meyer and Office Depot shoppers gave Liz her customer service training developing an outstanding work ethic.  One of the last babies born at the old Gresham Hospital, Liz hasn't felt the need to travel far from her roots.  She is a local girl through and through tiara and all.
Angela Trambitas
9 to 5 Membership Manager
After Hours:  Pretty hard to knit, cook, and paint while hiking in the Columbia River Gorge, but if it can be done, Angela is the one to do it.  Rain or shine, hiking is a passion.  A standard piece of hiking equipment for her is her camera and she could publish a book full of all the Oregon birds she's photographed.  She uses her creative traits to "concoct" vegetarian dishes and create special homemade gifts for friends.  She dreams of living in a farmhouse with a view, baby goats, chickens, and a garden full of organic vegetables and an orchard full of apples and pears.
Life before Chamber:  A graduate of Centennial High and never afraid of a new situation, Angela turned to promotional marketing as a career choice.  One of her favorite jobs was with Red Bull, being the spokes-model for the energy drink, when it began launching the product in our area.  Fearless of cold calling or talking to someone new, Angela is a great asset to Chamber members.