Gresham Area Neighborhood and Community Parks
East Multnomah County includes more than 500 acres of parks, 1,000+ acres of natural areas and miles of trails, many suitable for walking, jogging, biking, rollerblading, strollers, dog walking, and horseback riding.
City of Gresham Park Hours
*Provided as a guideline.  Please verify park hours for your specific park of choice.
April 1st - September 30th: 5:00 AM to 10:00 PM
October 1st - March 31st: 6:00 AM to 8:00 PM
Gresham Arts Plaza
401 NW Second Street
Gresham, OR 97080
Amenities
Bike Parking - Children's Fountain - Public Art - Seasonal Restrooms - Splash Pad - Wheelchair Accessible
The Original Gresham Farmers' Market and the Children's Fountain call the Plaza home.  Many events are held here throughout the year like the Spirit of Christmas Tree Lighting and more.  Steps from cafes and local shopping, the Gresham Arts Plaza is the perfect outing.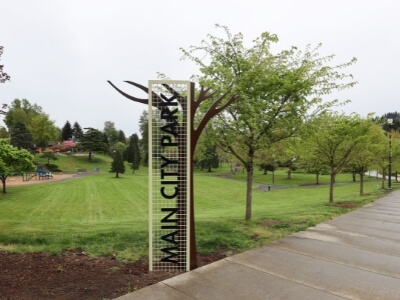 Gresham Main City Park
219 South Main Avenue
Gresham, OR 97080
Amenities
Baseball Field - Seasonal Restrooms - Off-Leash Dog Area - Wheelchair Accessible - Playground - Picnic Shelter - Free Parking
Access to the Springwater Trail
Tsuru Island Japanese Garden
Gresham Skatepark
Gresham Heroes Memorial