The Gresham Area Chamber Helps Non-Profits
"From day one of joining the Chamber, the partnership has truly helped our non-profit at multiple levels."
Michelle Kosta, Family of Friends Mentoring

The Gresham Area Chamber of Commerce Works!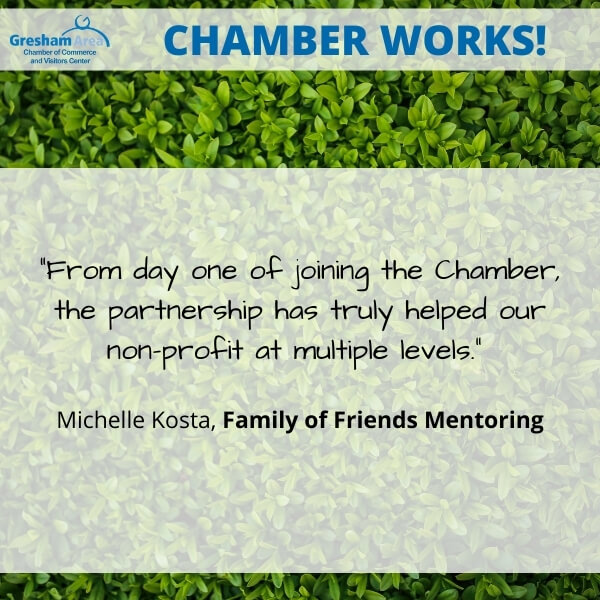 The Gresham Area Chamber of Commerce is committed to helping Gresham Area businesses.  Both for and non profit businesses can benefit from the support and resources supplied by the Chamber.  In order to achieve this lofty goal, the Gresham Area Chamber's mission and vision is encompassed in a three prong approach.
Advocate
Amplifying the voice of local businesses withing legislative issues, regulation and public policy help to maintain the business friendly environment enjoyed in the Gresham area.
Educate
By offering over 220 annual events in a variety subjects and goals, the Chamber provides opportunities to broaden your understanding.  For instance, the Business  and Leaders Luncheon events brings a wide variety of topics to the spotlight.  The latest luncheon introduced the newest developments in the journey of bringing major league baseball to the Gresham area.
Collaborate
The Chamber of Commerce works to bring Gresham Businesses of all sizes and industries together on a regular basis.  "Learning from one another is one of the most impactful benefits of chamber membership", shared 19+ year chamber member Bess Wills, General Manager of Gresham Ford. "I have sponsored two of my staff in the annual Leadership Academy.  Both Ryan Johnson and Annette Freetage greatly enjoyed the monthly classes and have grown professionally.  Their renewed sense of excitement for community involvement and government is impressive too."
The Gresham Area Chamber of Commerce provides a variety of events throughout the day and week.  Plugging into the business community and getting involved is easy with the support of the Chamber of Commerce and fellow members.