In addition to the printed, full color magazine the digital edition offers interactive features bringing your message to life! Readers are able to translate articles, utilize easy to use search features and link to your website.
The official publication of the Gresham Area Chamber of Commerce and Visitors Center
This is your opportunity to let residents, visitors and businesses know you are open and ready for their business.
101,000 PRINT & DIGITAL DISTRIBUTION:
+ 10,000 printed copies distributed to Gresham area households, businesses, visitors and chamber members.
+50,000 digital replicas delivered to Pamplin Media opt-in emails in the Gresham and surrounding areas.
+ 41,000 target digital display impressions in Gresham area promoting the magazine.
+ Digital edition hosted on the Gresham Area Chamber and Gresham Outlook websites for a year.
ADVERTISING DEADLINE: JULY 8, 2022
PUBLICATION DATE: AUGUST 2022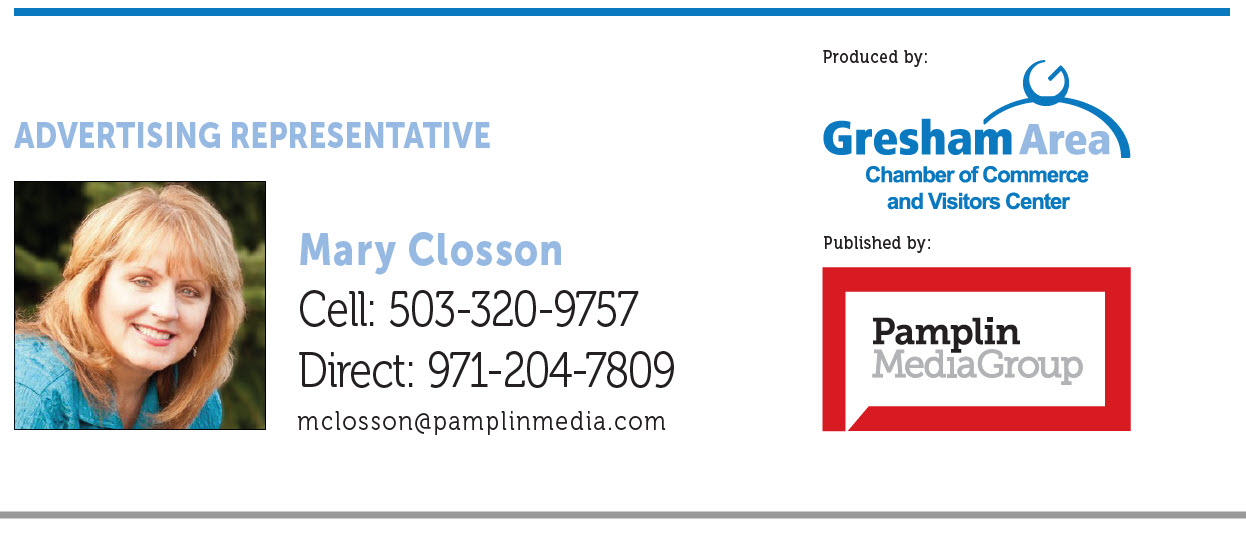 This full color magazine, featuring local business & community information, is inserted into the Gresham Outlook and is distributed by the Gresham Chamber, online at GreshamChamber.org and the Gresham Outlook website. The print edition is also available through realtors, the city, library and key area businesses.
CHAMBER MEMBER BENEFITS
Chamber members are featured with a plain listing
in alphabetical order and by business classification
with their address, phone, email and website.
DISPLAY ADVERTISING RATES
Includes full color & bold listing & link to website.
2.25" x 3 : $295
1/6 page : $410
1/4 page : $510
1/3 page : $710
1/2 page : $940
Full Page : $1495
PREMIUM POSITIONS
Includes full color & bold listing & link to website.
Back Cover : $2680
Inside Front Cover : $2350
Inside Back Cover : $2350
Page 1 : $1870
NEW CHAMBER MEMBER/ADVERTISER
Includes full color & bold listing & link to website.
1/6 page: $340
Other sizes available at 10% off the rates.
CLASSIFIED LISTINGS
Bold listing with link: $50
Additional Bold listing with Link: $40
Red Bold Listing with link: $80
Extra Lines (each): $25
DIGITAL OPTIONS
Embedded video within your ad: $400
SPACE RESERVATION DEADLINE
July 8, 2022
MATERIALS DUE
July 20, 2022
PUBLICATION DATE
August 2022
SENDING YOUR AD
PDF format is preferred.
Minimum 300 dpi at CMYK color settings.
Design services offered at no additional charge.