Reimagining Indoor Air Quality with ActivePure Technology
For IMMEDIATE RELEASE
November 15th, 2022
Contact: Everyday Air - Jon Thomas IAQ Specialist
jon@everydayairsystems.com ** 503-894-1212
The Most Powerful Surface and Air Purification Technology
Click Link Below: Green Building and Design Highlights ACTIVEPURE Technology (3 min read)
https://gbdmagazine.com/reimagining-indoor-air-quality/
BY COLLEEN DEHART OCTOBER 26, 2022
Story at a glance:
ActivePure is helping people bring the safety of outdoor air inside with technology that inactivates viruses, bacteria, fungi, and other contaminants.
The pandemic exposed inadequacies in the area of indoor air quality to a degree not seen before.
Given FLU season, RSV, Monkeypox, and more Covid variants, people are demanding safe indoor air.
Throughout the Covid pandemic we have heard the benefits of outdoor air touted by medical and safety professionals. We have learned of the safety of gathering outside and the dangers of gathering indoors. What if you could bring that same powerful tool created by Mother Nature indoors? What if you could bring the outside in? It is possible with ActivePure.
ActivePure air purification systems use a technology that allows indoor air to continuously inactivate viruses, bacteria, fungi, and other contaminants in real time. ActivePure Technology works through a process called advanced photocatalysis. "Throughout the pandemic the CDC has stated a high preference for outdoor air. There are two reasons for that. One, naturally you have a very dynamic atmosphere. And two, outdoor air has the benefit of photolysis happening all day, every day in sunlight. I tell my children it's the best thing you have never heard of," says Amy Carenza, chief commercial officer at ActivePure.
Utilizing Mother Nature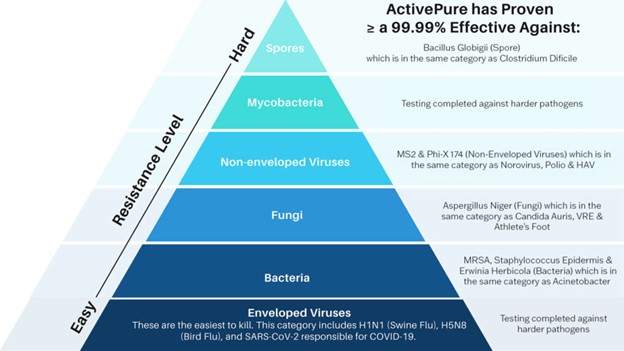 The hierarchy of pathogens. Image courtesy of ActivePure
Photolysis is the process by which the UV light from the sun breaks down molecules such as H2O in the air around us, leading to the creation of something called reactive oxygen species. "Nobel Prize-winning scientist Dr. Paul Crutzen called these molecules 'the detergent of the atmosphere.' That is a great way to think about them because they do an essential job of helping the atmosphere to cleanse itself," Carenza says. "When you think about all the pollution that mankind pumps into the atmosphere, photolysis is very helpful."
But, when indoors without sunlight to produce them, these molecules don't live long. They are highly reactive, and in just a couple of seconds, the outdoor air that has moved in has lost that therapeutic quality. "That is why indoor air tends to become stagnant," she says.
As a result, we have become accustomed to trying to circulate, filter, and dilute indoor air. "What happened during the pandemic is all of the experts in the HVAC space said we have to do more circulating, filtering, and diluting of air, but that takes a lot of energy. It has exposed the inadequacies of our indoor air to a degree we have never seen before."
ActivePure makes that same outdoor air cleansing process possible indoors. It uses a technology originally developed in conjunction with NASA research to re-create photolysis indoors. It allows the ambient humidity in indoor spaces to transform into the same chemical species found outdoors that can then neutralize virus pathogens, bacteria, fungi, mold, pollen, and volatile organic compounds. "Mother Nature designed something brilliant. We didn't need to improve on what nature designed; we just needed to figure out how to bring it inside, and that is what we have done."
A Critical Solution
PureCloud utilizes ActivePure Technology. Photo courtesy of ActivePure Pandemics have a way of forever changing the way people think and what they are willing to tolerate. The Covid pandemic has increased awareness of the spread of airborne disease. It has put a spotlight on how unsafe indoor air can be compared to outdoor.
As flu season kicks off and with the onset of RSV and more Covid variants as well as Monkeypox, people are demanding solutions more than ever before. "The fact we are still talking about solutions for Covid three years into it and over six months into Monkeypox tells me that our current approach to controlling infectious disease is not enough," says Dr. Deborah Birx, chief medical and science advisor at ActivePure and former White House Coronavirus Task Force coordinator. "We are not adequately using all the tools we have to decrease indoor transmission."
As employees return to the workforce and children are back in classrooms, employers and school officials recognize the threat of long Covid and transmission from indoor air. "It is not just preventing hospitalizations and deaths but also long Covid," Birx says. "We know the vaccines are effective most of the time against decreasing hospitalizations and death but only very transitionally effective against infection transmission. Now that people are being reinfected for the third, fourth, or fifth time, as a global community knowing you have technology that can prevent transmission in indoor spaces where we know most transmission occurs, and using it, is critical." With the increase in missed work and school due to Covid and other disease transmissions, this has become more than a health problem; it's also an economic problem.
Protection for Everyone
ActivePure products. Photo courtesy of ActivePure
ActivePure has been scientifically proven to neutralize pathogens that spread disease faster than disease spreads itself—in less than 60 seconds. It neutralizes both pathogens found in the air and also on surfaces. The ActivePure Medical Guardian is FDA cleared and safe to use in occupied rooms. "It would be like having all of the safety requirements and the tools to build better buildings to withstand hurricanes and not doing it. You do it because you want to save people's lives. You have to apply 21st century technology when you have it," Birx says.
It is adaptable to any indoor space. ActivePure can be used in schools, workplaces, health care facilities, homes, and beyond. "Having a technology that is adaptable and adopted in all these different scenarios creates the ability for anyone to have an indoor space that is protected," Birx says.
While studies show tools like masking are effective, they are only successful if they are the proper thickness and worn close to the face—which, as Birx points out, is difficult for elderly people, preschool children, and those in memory care facilities, among others. ActivePure offers a protective solution for everyone.
A Critical Solution with no infrastructure changes necessary with Plug and Purify options