Let's celebrate Women's Small Businesses and SHOP LOCAL Gresham!
Support Your Local Gresham Area Women Owned Businesses
360 Painting of Portland
A Revenue Journey: NutraMetrix/NPOShop.com Consultant
A.C.T. Plumbing Inc.
Accent On Attitude
Accuprint
Advanced Care Chiropractic
Albertina Kerr Employment Services
All About Automotive
Alter Ego Salon
Amanda Elizabeth Kimber Agency
American Family Insurance Barclay & Associates, Inc.
Amy Rose Davis, Freelance Writer
Anna Agatat - Mt Hood Realty
Anytime Fitness
Apple of His Eye Charity
Armworks Hand Therapy
Assisting Hands Home Care
Bethany House, Inc.
Betty Chisum
Birch Community Services, Inc.
Boccelli's Ristorante
Bucket List Travel Tours
Burns Feed Store
Busy Bee Catering LLC
C.P. Trips, Inc.
Care Solutions
Carolyn Aegerter
Cascade GIS & Consulting
Center for the Arts Foundation
Chase Me Again
Cheryl Rush
Cindy's Window Fashions
Clear Creek Events
Columbia Collection Service
Columbia Slough Watershed Council
Comfort Inn Columbia Gorge Gateway
Courtyard by Marriott Portland East
Dr. Marlena Kennedy, ND
Edward Jones - Alina Rocha Johnson
Edward Jones/Christina J. Price
Edward Jones/Kimberley Lanphar
Express Employment Professionals
Family of Friends Mentoring
Feather Your Nest Quilt Shop
Firehouse Subs
Food for Families, Inc.
Frenzi Frozen Yogurt
Friends for Sue Piazza
Friends of the Children
General Fitness Gym
Ghioni Tax and Accounting Solutions, LLC
Glamour-eyez Beauty Studio
Golden Ticket Adventures - Specializing In Everything Disney
Great Solutions, Inc.
Gresham Biscuits Café
Gresham Burrito Shop
Gresham Family & Bankruptcy Law
Gresham Family Dentistry
Gresham Ford
Gresham Outdoor Public Art (GOPA)
Gresham Schmizza Public House
Hampton Inn
Healing Treasures Massage LLC
HealthBenefits411
Heidi's of Gresham
Hire NW
Hood View Chiropractic
Hoodview News
Hope's Bake Shop
iCandy
Joan Albertson
Kangen Water Center
Keller Williams Realty Portland Elite
Kohler Meyers O'Halloran Inc
Kona Ice of North Clackamas
Landmark Tax & Investment Services Inc.
Leathers Fuels
Leslee Dirk - ERA Freeman & Associates
Lewis Creative
Lori Stahlman
Lori Stegmann Insurance Agency, Inc - Farmers Insurance Group
Maggie Mae's Kids Bookshop
Margarita Factory – Gresham
Marie's Custom Quilting
Medical Vocational Planning, LLC
Mortgage Express, NMLS-62738 & NMLS-205436
Mt Hood Realty - Karen Croston & Rod Barker
Mt. Hood Adult Day Center
Mt. Hood Hospice
Mt. Hood Senior Solutions
My Father's House, A Community Shelter
Navigate Financial
Nicholas Restaurant
Northwest Accounting Partners
Northwest Benefit Strategies LLC
Northwest Gymnastics Training Center
Norwex - Kathy Hill
NW Web Solutions
Optavia - Sue Piazza
Orient Auto Service, Inc.
Outside In
Pacific NW Office Furniture Design, LLC
Patti Gage and Rob Too - Berkshire Hathaway Home Services Real Estate
Perfect Flush
Portland Columbia Symphony
Premiere Property Group, LLC- Marguerite Truttman, Realtor in OR and WA
Quality Inn
Resolutions
Revealing Radiance
Revealing Radiance
Right Way Bookkeeping
Rockwood CDC & Sunrise Center
ROG3RS REALTY LLC
SBRG, Inc.
Send Out Cards - Gail Fuller
SERVPRO of Gresham
Shop Girl Consignment
Smart Labs Now
Soroptimist International of Gresham
Spud Monkey's
SRC Community Consulting, LLC
Suburban Auto Group
Suburban Auto Group
Sunny Han's Wok & Grill
Sunny Han's Wok & Grill
Tany's Bakery LLC
Tax Minimizers of Oregon Inc.
The Bold Orange
The Rosewood Initiative
The Tidy Sister
Theresa's Country Feed & Pet Wood Village
Tiger Lily Photography
Tortilleria Y Tienda De Leon's
Troutdale Airport Storage
U.S. World Class Taekwondo
Venvino Art Studios
Visiting Angels
Visual Impressions Photography, LLC
Wood Village Burrito Shop
Xcelsior Coaching & Consulting
How you can support female small businesses in the Gresham Area
Shop from women owned businesses - We have included a list of Women Owned Gresham Area Chamber member businesses above.  After you make your purchase go the extra mile and leave an online review on Google, Yelp, or Facebook.
Help promote their business on your favorite social media - If you enjoyed a local shopping experience tell your friends.  Help increase awareness and share about the local entrepreneur that is doing an outstanding job.  Remember it's hard to start and run a business.  Show the love whenever possible.  Include #BuyWomenOwned and #TryLocalFirst to increase your visibility.
Don't forget the charities - As you can see above, charities are also headed by local Gresham Area women.  Running a successful non-profit is only possible with healthy regular donors.  Research and find a women owned and operated charity in the Gresham Area that speaks to your passions.
Send a message of support - A kind letter of support can really make all the different in any entrepreneur's day.  Often time business owners feel isolated with the daily demands of their business.  Sending a positive note letting them know you acknowledge their hard work and dedication can be impactful.
Subscribe, follow, and like - Even if you don't have the opportunity right now to purchase anything you may have a need in the future for their product or service.  Subscribe to their newsletter.  Follow them on your favorite social media platforms.  Like their videos and posts.  Staying in contact also means you will see any discounts and valuable information.
Celebrating Women In Our Community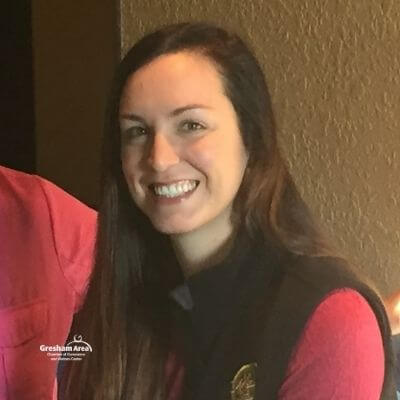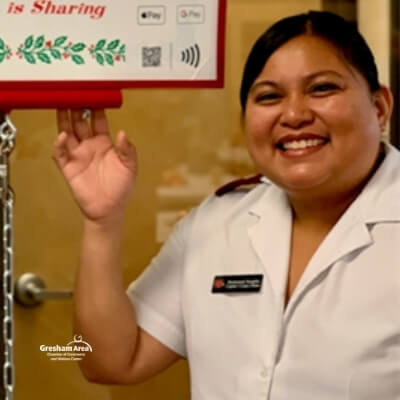 Non-profits, of which Gresham has many, are often managed by strong, compassionate women. The Chamber has many non-profit woman Executive Directors and managers. Two examples of our many amazing leaders are Brianna Winningham, Ambleside Meals on Wheels People and Shoshannan Ruwethin, The Salvation Army Gresham Corps.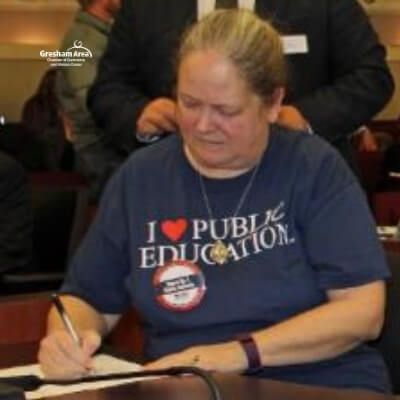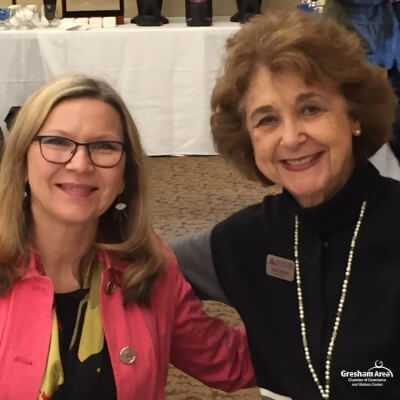 Educational decisions affect us as parents, taxpayers, and business owners. Kris Howatt, Feather Your Next Quilt Shop and Gresham Barlow School District board member and Diane McKeel and Annette Mattson, Mt. Hood Community College Board of Trustees make impactful educational decisions.
Hard work leading to success is often harder when you are a woman owned minority business. Tortilla & Tienda De Leon's owner Lucy De Leon, welcomed the challenge and is a strong role model in our community.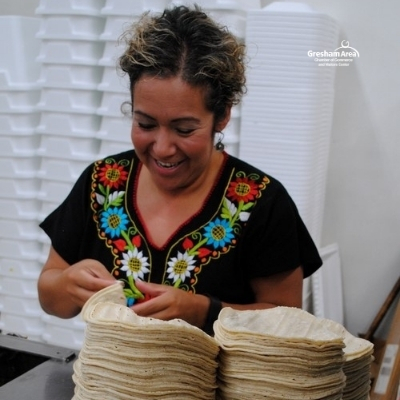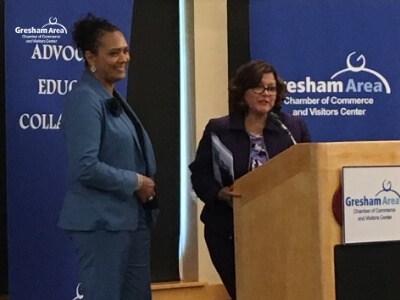 These two women take their responsibility seriously as do many women leaders. Superintendents Dr. A. Katrise Perera and Dr. Danna Diaz of Gresham Barlow School District and Reynolds School District know the impact that responsibility has on the lives of children.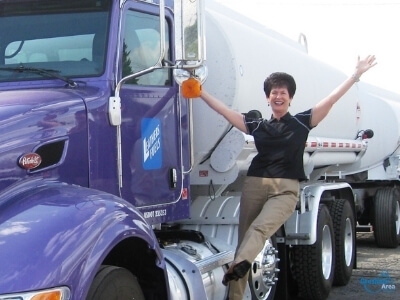 Successful women in a male dominated industry. Lila Leathers, Leathers Fuel and Karen Johnston, All About Automotive, are just two great examples of women in our Chamber. They are making a difference in their industry and by actively engaging in local efforts for students.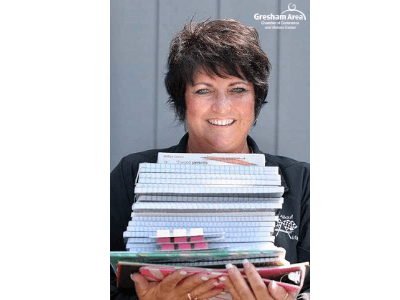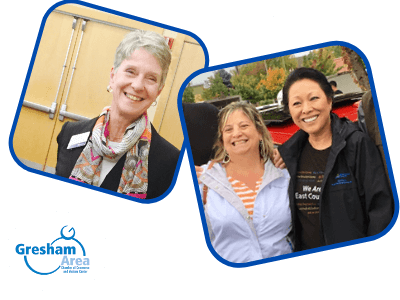 The Gresham area voters elected women leaders to local city and county positions. Examples of those leaders are Metro Councilor Shirley Craddick, Gresham City Councilor Janine Gladfelter, and Multnomah County Commissioner Lori Stegmann.